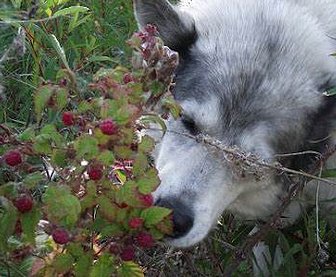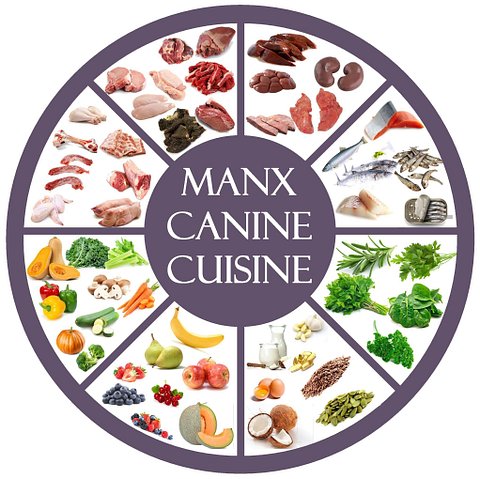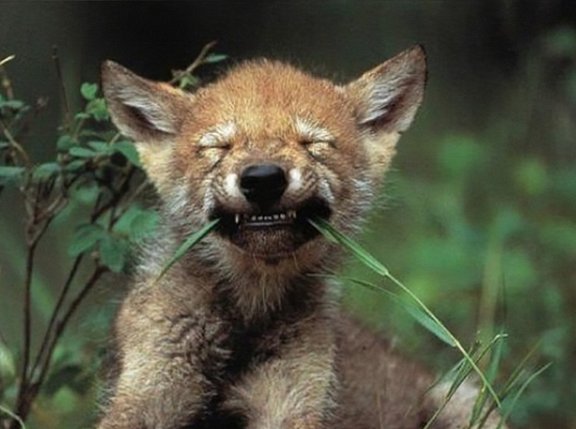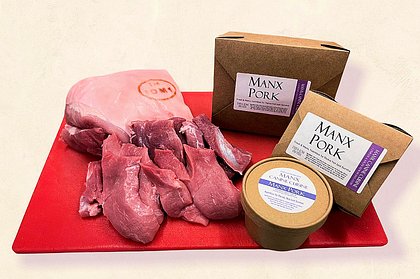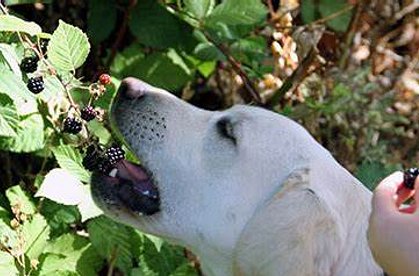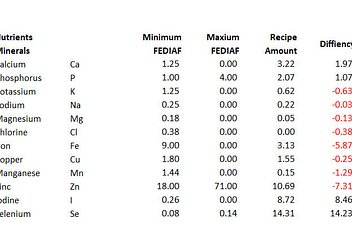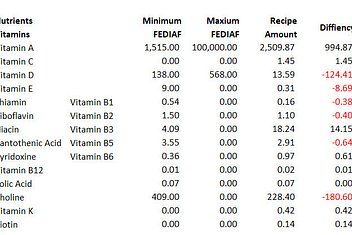 I hope I've helped clear up a few misconceptions about the inclusion of veggies for raw feeders and anyone thinking about feeding raw food.
If you require more help please message or call our Canine Nutritionist Pam, pam@manxcanine.com Tel; 07624 464140
she's always happy to help.
Nutrient profile of 80/10/10 Raw
As we can see from the deficiencies in the above food, 80/10/10 meals for our dogs are missing a great deal of nutrients, remember, these nutrients are listed as minimum and if data available, maximums too, not the optimum amount needed for great health. which is something we should always be looking for in our dogs food.
Manx Canine Cuisine Manx Pork Ingredients:
Manx: pork leg, tongue, heart, lites, liver, spleen and kidney, ground bone, broccoli, butternut squash, white cabbage, red cabbage, celery, spinach, collard greens, blueberries, home grown kale, home grown mint, home grown lemon balm, ground kelp, ground sunflower seeds, ground pumpkin seeds, dried Manx dandelion leaf, dried nettle, ground flax seed, dried chamomile.
Lets look at Manx Canine's meals, we've chosen our Manx Pork for this post,
The muscle percentage on the average pig is roughly 60% give or take, which is generally true for most food animals, a cow is roughly 50% a lamb pretty much the same, the liver is twice the size at least than the other secreting organs, bone accounts for roughly 12%, then there is skin, blood, head, stomach/digestive system etc, so when we make up our food we try keep everything in proportion to the original animal, hence many of us animal nutritionists are still confused as to where 80/10/10 came from.
Our dogs wild cousins, wolves, coyotes, dingos, African wild dogs and the rest of the wild canids eat roughly 3-5% (max) of plant matter, our dogs have a little more, we use between 5-10% plant matter, this includes nuts and seeds as well as veggies, herbs, berries and fruits, so when creating as complete a meal for your pets as we can, we use roughly 10% plant matter, 10-15% heart, 10% bone, 10% offal (5% liver, 5% kidney/spleen mix altered regularly) 5-10% lites (lung material, including trachea) and 50-60% muscle meat (we also chop this into large chunks for our meals so our clients mums and dads can see how much muscle meat has been included, the only exception and the only minced one is our small dog food which is eaten easier this way for little mouths such as a Chihuahua's, puppies and other small breeds, but still contains the same percentage of muscle meat), this consists of pork leg, pork trim and tongue, (heart and lites are classed as muscle meat, but for our purposes and to keep the percentages correct we exclude then in our muscle meat calculation), providing a percentage of muscle meat equal to the animal it came from, we use as many parts of the animal as possible to ensure as complete pork meal as we can. We do this for all our proteins. The pork material along with the plant material and added oils creates a meal containing all of natures nutrients, in optimum form to give your dog a healthy balanced meal, but it doesn't stop there, by providing many different proteins, from many different animals, adding in a large variety of plant material into all our different foods gives them an eating experience as close to ours as is possible, VARIETY…. It's not only the spice of life, but the KEY to a healthy life itelf.
Manx Canine Cuisine creates all of our recipes on specialist software that gives us the grams/milligrams of nutrients in each food as we build the recipe up, we abide by and adhere to the regulations as laid down by F.E.D.I.A.F. the European Regulations for Pet Food Nutrition and Pet Food Manufacturers Associations (this is law for the UK and Europe if you want make pet food and even to be able to label your food as complete, the Island has yet to adopt these laws, we dohope that soon this will happen) for the minimum and maximum nutrient requirements for each life stage, ensuring ours contains optimum, not minimum nutrients to ensure our customers are happy and healthy inside and out.
The last thing to clear up is a belief that veggies (we include the fruits, berries, herbs, nuts,seeds etc in this reference, saves us typing it all every time) are not fillers to bulk out meat, firstly, veggies are not as cheap as we think, (i've used Tesco prices are they are the cheapest, Manx can be double, but Manx are far heathier, we use a variety of Manx and British) spinach is £3.42 per kilo (for reference chicken is £1.56 a kilo for the cheapest chicken cuts), organic spinach is £13.70 per kilo, broccoli is between £1.60-2.70 per kilo, blueberries are £12.60 a kilo and the cheapest are carrots at £0.40 per kilo, but these are higher in sugar and we don't add too many. Fish oils range from £14 per litre to £60 per litre for krill oil (great for dogs) so adding the cheapest veggies to your dogs food isn't a filler, it's expensive and if you try to use as many organic foods as possible, then the veggies are going to cost more than your meat kilo for kilo, like organic eggs (generally the only eggs that contain vitamin D) then each egg is between £0.32-£0.60 per egg, I hope I've helped clear up a few misconceptions for raw feeders and anyone thinking about feeding raw food, anyone wanting more help please call our nutritionist Pam, she's happy to help.
The complete low down on why we need veggies, berries, herbs, fruit, nuts, seeds, oils and fats in our dogs dinners as well as meat, offal and bone.
The Real Veggie Scoop In Raw Dog Food