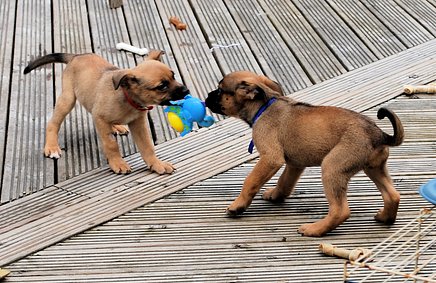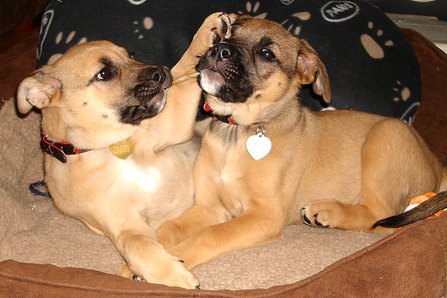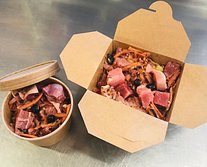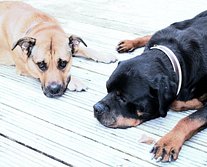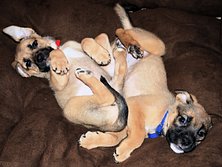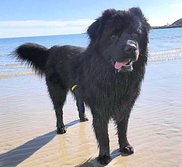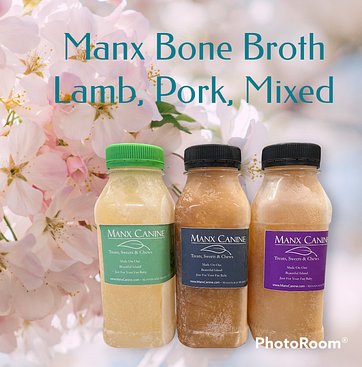 Why not browse our hand made pet jewellery made for Manx Canine by Aalin Jewellery, we have little girls bracelets with bunnies, kitty cats, pooches and lots of other animals or a stunning sterling silver paw bracelet for a special gift for the loved ones in your life. Let us know if you need anything special and we can help provide a bespoke piece just as we do with the dog food, Aalin Jewellery is owned by Pam, our nutritionist at Manx Canine, she's been making jewellery since she was a little girl.
Product of The Week:
Manx Bone Broth
Feed fresh, healthy live nutrient dense raw Manx food not only for the health of your dog, but to keep them healthy & happy for a longer more productive life.
Puppy play, a most important part of a puppies learning process, the feel, taste, look and smell of items help mould your puppy when they are little babies, food does the same thing, puppies weaned and raised up to pubity on a single food tend to not be open to being introduced to other foods later in life, they learn which foods are safe at a very young age, always wean puppies on a fresh variety of foods to ensure healthy growth.
A balanced raw diet consists of feeding more or less a whole animal to your dog, this typically consists of raw meat, bones, organ meat, raw vegetables, oils, herbs & fruit, thus providing a fully balanced & nutritional diet for your dog.
A raw diet can provide your dog with all the right amino acids (protein), minerals, vitamins, essential fats, enzymes & all nutrients required to help your dog thrive, raw diets are meant to mimic the food our beautiful mother nature designed them to eat in the wild and which every other family of the canid group who are still wild still eat today.
There is a growing trend for raw feeding as its benefits are becoming more widely recognised, a raw diet can act medicinally, saving a fortune in reduced vet fees, giving your dog the correct nutrients can mean seeing a distinct improvement in a number of areas at once. As a dog owner, it is your job to ensure that your dogs basic needs are met. The quality of your dog's diet will have a direct impact on his general health & wellbeing.
Opening Times,
Monday 12:30 to 6:00
Tuesday 12:30 to 6:00
Wednesday 12:30 to 6:00
Thursday 12:30 to 6:00
Friday 1:30 to 4:00
Saturday 12:00 to 2:30
Sunday Closed
Delivery Schedule:
South: Tuesday & Wednesday
East: Wednesday & Thursday
West: Friday & Saturday
North: Thursday & Friday
IMPORTANT NOTE:
These days and times may change without notice, do not leave ordering
till the last minute, please ensure if
you are not in you have a safe, secure
and cool place to leave your order.
Manx Canine's raw dog food will create lasting health benefits for your puppy or adult dog.Within weeks or even days you'll notice:
· Cleaner teeth and better smelling breath
· Healthier skin
· Smaller stools
· Balanced energy levels
· Improved digestion
· Shiny silky soft coat
· Better immunity and health
· Less allergies
· Less itching and licking
· Less health issues
· Easier weight management
All they need; from puppy to old age;
Optimised for every stage of your dog's life, Manx Canine's raw dog food
is the best dog food for puppies or older dogs:
· Raw food for puppies, adult, senior and pregnant dogs
· 100% complete for health & tackling health issues such as allergies & obesity.
· Nutritionally balanced by nature and supported by experts
· Highest quality, raw materials, ethically sourced and best of all Manx
· Chunkier bites of meat and higher bone content for puppies and growing dogs
· Chunks of meat and veggies for more chewing that helps clean teeth
· Frozen for ease of storing in bulk at home
1. Detox the liver and body
2. Immune System Boost
3. Provides nutrients for Healthy Skin & Coat
4. Provides amazing joint support with glucosamine, hyaluronic
acid, chondroitin & collagen nutrients
5. Improves digestive health and helps heal leaky gut
6. Contains a great range of essential vitamins and minerals
7. Fights inflammation and diseases such as diabetes, arthritis, cancer....
8. Enhances hydrations after sickness and diarrhoea,
9. As part of their every day diet and as a treat or a snack
Click on the picture above for the product in our shop