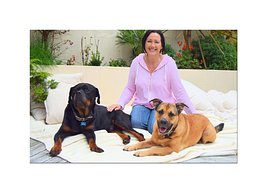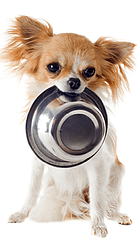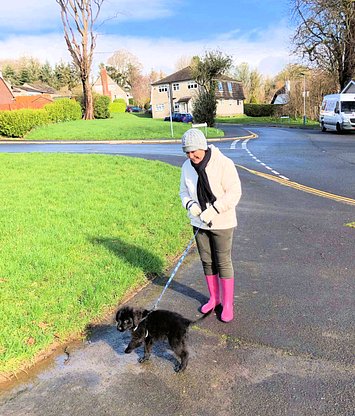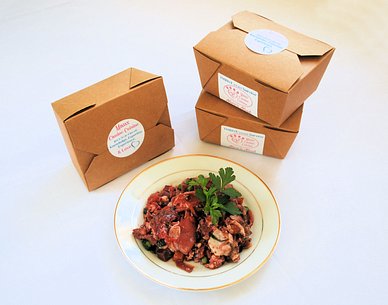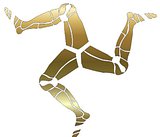 If our dogs could do thier own shopping, they'd choose Manx Canine Cuisine for their dinners.
Our nutritionist Pam with her new family member, Vader, who is a Newfoundland with an appetite to match his size, or the one he will be in a few months.
Pamela Goldie and her two dogs Nero and Tia
Tia is the inspiration for Manx Canine Cuisine, she became sensitive and reactive to her food after being neutered, she suffered rashes, swollen paws, constant itchy skin, red and sore ears, swapping her to raw fresh food diet changed all that, nearly 9 years later she is a happy healthy girl who's just looking forward to her 10th birthday soon.
Visit our online shop to purchase our "Doggie Dinners" & treats
Manx Canine Cuisine, a little Manx Company providing the best in fresh dog food, we provide balanced and complete meals for your dog and cat that not only contain every nutrient your dogs needs, but provides them from fresh natural food.
Each meal contains vital vitamins, minerals, proteins and fats. Each recipe designed to incororate all these nutrients in the levels needed for your dog to grow into a happy healthy hound.
"Sweet Shop" Treats and Sweeties
100% completely natural & whole treats for your dog, roasted & raw, dehydrated and cooked, we have lots, and developing more each month.
Beef, chicken & pork jerky, one of the all time favourites, lamb & pork lites, for healthy eating, and rich trachea tubies and balls for a crunch, we also have wing tips and little fishies, beefy bites for training and a new couple of flavours to add soon, natural rib and knuckle bones for teeth, dehydrates lamb, pork and beef heart jerky too and not to forget one of our favourites, our cookies, especially at Christmas in our little Christmas bags.
Raw "Doggie Dinners"
The dinners we make for our Island's dogs are absolutely No 1, we not only provide human grade DEFA approved Manx farm assured meat, but we chop the chunks of muscle meat so your dog has something to bite into, we also include more than one muscle meat as well as offals & complete it with vegetables, fruit, herbs, spices & oils, this ensures that every meal we send out, contains EVERY nutrient your dog needs for a healthy & happy body & mind.
We check every meal contains all the required amino acids (protein), fats, vitamins, minerals & carbs your dogs body needs. We can also provide 'Client Specific Diets', for dogs with diseases, illnesses or allergies, or just make the food in just the right amount for your dog to eat each day.
Manx Canine Cuisine creates the finest raw dog food meals right here on the Island, it provides your dog with a delicious range of proteins, locally sourced meats, farmed and raised on the Island by some of the the worlds best farmers, combined with seasonal vegetables, fruits, berries, herbs, seeds and oils, creates the most delicious and healthy doggie dinners you and your pet could wish for.
Dog Food, it incites rows, debates, arguments and intense emotion...
We all have different views on what our dogs should actually eat, sadly there has never been an all out scientific study to show WHAT our dogs should be eating, not what they can eat, not what we can provide for them, not what they will survive on, but actually what mother nature designed for their bodies to live a healthy full and long life on.
We've known now for years that are dogs are getting sicker year after year, dying younger year after year, cancer in dogs is off the scale, not even humans come close to the cancer rate of our furry best friends and considering they dont smoke, drink, work down coal mines or strip asbestos from buildings, considering we control what they EAT, what they DRINK, when they BREED, when they SLEEP, when they EXERCISE, when they PLAY, even when they MAKE FRIENDS! We MUST be responsible for the deterioration of their health, their genetics, their life span and the whole species.
Now! It's ime we started doing something about it. We get told by all our health care professionals all the time to eat fresh food, 'five' a day is the number used, fresh veg, fruit, no sugar and healthy fats, nuts, healthy food with live unprocessed nutrients, but we are consistantly persuaded to feed our dogs the total opposite, highly processed, dead/artifical nutrient, basically the waste products of the human food industry, this may seem an extreme statement, but it is sadly a very true and understated fact, the details of which would turn your hair white and force you running from the pet supermarket into the local butchers shop faster than a speeding bullet.
K-9 Nutritional Consultancy and Advice.
We are here to help you with all your dogs nutritional requirements free of charge, we provide this service regardless of the food you feed or buy, we believe in community and giving back and have helped many many dogs back to health, some who's prognosis seems bleak have bounced back and some who's illnesses are lifelong have had relief from their symptoms and live a happy healthy enjoyable life.
We have also started to provide for our feline friends too, our cats being obligate carnivores enjoy a full, multi-meat and fish dinner as well, making for some very happy puddy cats…
We provide this service to anyone who needs it and are only a click or phone call away.